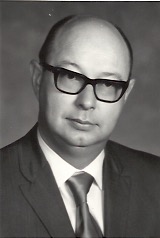 Berlon 'Lonnie' Spies started Lonnie's Trailer Sales, Inc., now doing business as Lonnie's Homes, in 1947 and incorporated in 1961. The business originally started with him moving and setting up homes for builders. He was proud of the fact that he moved homes to every one of the 48 continental US states during his career.
Lonnie also was involved in the manufacturing of homes as he was a cofounder of Western Homes Corp., based in North Bend, Nebraska, in 1970. Western Homes had very strict quality standards and built homes under several names, with the Safeway brand being their premier home. Many of these homes are still in use today and should last for many more years to come.
Eventually Lonnie's business partner retired from the business and the North Bend plant was going to require significant capital expense to modernize, so Lonnie made the tough decision to close Western Homes and focus instead on becoming a dealer for other manufacturers. He established a business relationship with Skyline Homes out of Arkansas City, KS, which is a business relationship that continues to this day.
Lonnie moved hundreds of homes over his lifetime and there wasn't anything he hadn't seen when it came to setting up a home. He also saw the industry transform itself from a time when many builders were focused on building low-end homes that were not very attractive, to where it is today with quality standards that routinely meet or exceed those of site-built homes and are every bit, if not more attractive, on the outside and inside of the home.
Lonnie was active in the business up until his death in August, 2012. His grand-daughters, Karrie and Pam, took over ownership of the business and Lonnie's daughter Cheryll managed the day to day operations. Karrie's husband Ron eventually assumed the day to day operations, which allowed Cheryll to retire, although she still is in Schuyler and helps out whenever needed.
So Lonnie's is still a family run business and one that prides itself on exceeding all of our customer's expectations and continuing with the quality standards that Lonnie always had for the homes he sold and with the installation process and service after the sale